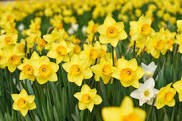 Happy Spring, Everyone!
I think that I love this time of year when Daffodils are in bloom and Cherry Trees are making their entry into our lives, The ducks in my neighbourhood park have chosen their partners as have the rabbits and, in a few weeks, ducklings
and bunnies will join us. Then I love Summer when all the garden plants are in their fully grown state and add so much colour to our lives. Autumn comes along and the change of colours makes driving or walking a constant source of "Isn't that tree so beautiful in its state of orange? Then follows the
incredible whiteness of Winter and I think that my mind isn't quite made-up.
Imagine, if you will, inhabiting the same climate on a daily basis!
We are so fortunate to be witnesses to the changing of the season and to watch four distinct seasons.
We are so fortunate in many ways! Thanks to our Teachers' Pension, the lack of money isn't a daily worry. We have so much to be grateful for!
Be thankful that you belong to an Association that works towards the wellbeing of its members. Education is a hard way of life to give up. The Executive is always looking for ways to respond to the needs of members. Our latest Guest Speaker answered a need. It's a pity more of you were unable to join us to find out about Aging in the Community from Sue Lantz, a dynamic speaker. Visit her website at www.collaborativeaging.com.
Feel free to join our Executive from anywhere in this four-season province.
For more information email me at info@bcrpvpa.ca.
Cheers,
Christine (Johnson), President