Welcome to the BC Retired Principals' & Vice-Principals' Association
The year 2016 marked the 20th anniversary of our association during which we've grown from 14 to over 700 members. Once you are a member, the annual fee is deducted from your July pension. The fee is currently $20.00 per year. Please note that you must apply to be a member – it is not automatic upon retirement.
The purposes of the BCRPVPA are:
To maintain an active affiliation with the B.C. Principals' and Vice-Principals' Association
To promote the interests and the welfare of its members
To communicate with members regarding issues of common interest and the activities of the Association
To encourage and foster liaison among Association members and Principals and Vice-Principals
Given that many of our members travel and live throughout the world we post all our communications on-line, however we do offer paper copies of our newsletters to members without internet access. We offer a variety of benefits including a choice of Extended Health/Travel plans, savings on buying vehicles, travel, and more.
We invite you to join the BCRPVPA community – a community of diverse interests and shared experiences.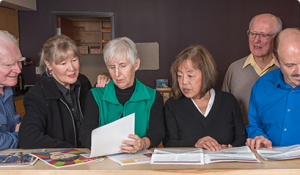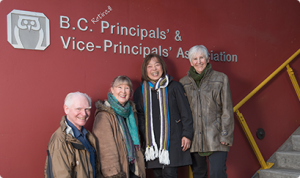 President's Message, November 2020
Welcome To Our Newly Retired Principals & Vice-Principals:
We are privileged to welcome 17 new members who have dedicated their lives to promoting educational opportunities to our BC students. Retirement from education does not mean we retire from life's expectations. Finally, you may be able to explore what you have always wanted to do and connect more deeply with family and friends. Even during these difficult pandemic times, do enjoy your new role possibly as a grandparent babysitter, as an ardent hiker, gardener or writer, as a Zooming volunteer for a favourite association, or as a schemer or dreamer of travel to exciting destinations!
BC PRINCIPALS & VICE-PRINCIPALS' ASSOCIATION:
We have a very close partnership with the BCPVPA, as they support us with our Association's financials; the membership list of 752 to date; scholarships of $1,000 awarded to 9 BC students; the Mentorship program & the province-wide Chapter Council.
BC RETIRED TEACHERS' ASSOCIATION:
The BCRPVPA & the BCRTA work together with affinity benefits; pension updates; the Medoc insurance & Prestige coverage. Please refer to newsletters or our website for more detailed information on Pensions & group or individual travel opportunities.
THE MENTORSHIP PROGRAM:
Now in its fourth year, the Mentorship Program was developed by the BCPVPA in conjunction with the BCRPVPA. The goal is to have retired Principals & current Principals, become mentors for newly appointed Principals & Vice-Principals throughout BC. In 2019, Mentors & Mentees had the opportunity to meet at the BCPVPA Board office despite the distances some had to travel. This supportive mentorship program has continued to receive positive feedback throughout its first three years and is continuing in earnest using online platforms and scheduled calls. This year, supporting new members to our profession is especially important.
THE BCRPVPA WEBSITE:
Please refer to our website for further information about affinity, benefits, insurance, pensions, scholarships, & reports from committees, under the section "Meetings". A committee is currently updating our website.
The BC Retired Principals' & Vice-Principals' Executive wishes all BCRPVPA Members a year of good health, safety & rest.
Christine Johnson, BCRPVPA President 2020-2021