Just over year ago I read an article in this very newsletter about a potential river cruise through Europe.  Like so many, I was missing my travel days, so after quick conversation with my husband, Darrel, we signed on. 
As a first-time river cruiser, I can't imagine a more relaxing, enjoyable way to explore a new area.   In addition to the scenery, we were fortunate to meet and travel with a terrific group of BCRPVPA members and their friends.  The warm welcome they extended us made the trip even more memorable.
The cruise itself was truly an ABC Cruise.  Everywhere we went there was 'Another Beautiful Cathedral, Castle, Church, or Community'….  So many, in fact, they quickly become a blur…

Day 1:  Arrival Day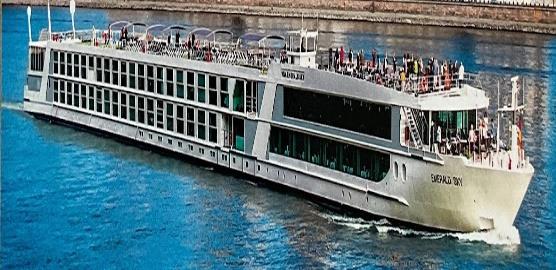 …we were able to walk to our cruise ship, the Emerald Star. And a pretty ship she was…. She has two levels of staterooms, each with wall-to-wall windows that open halfway to the floor.  The best viewing area is on the top level of the ship where, other than the pilot house, was all deck space.  An additional outdoor space was on the second level in the bow, directly in front of the lounge\ bar area.  The dining room was immediately below this space and tucked away at the rear of the ship was a swimming pool.  All was bright and spotlessly clean.
Day 3:  The Rhine Gorge

This was the fairy tale cruise day as we travelled through the Rhine Gorge.  I made a point of being up early so I could watch the approach to this area and before long I saw the first castle up on the hill side. From there it seemed as though there was one around every bend, nestled on the hillside above a small Bavarian style village.  Some of these castles date back to the 12th century and many are now private residences or youth hostels. We passed the famous Lorelei Rock where sailors were said to have been lured into the treacherous rocks by an enchanting siren; and the impressive Pfalz Grafenstein Castle, a former stronghold. It was truly a passage into history.
That afternoon we arrived in Budesheim, a town with a vibrant wine-growing heritage.  For the activity of the day, we chose to walk through a local vineyard to explore this section of the Rheingau wine region.  The 'walk' consisted of a steady uphill climb which included at least a hundred stairs.  Once at the top though, the views of the valley were breathtaking.  Also, at the top was the Niederwald monument commemorating Germany's unification in 1871.  The walk down was much easier.  Next time, I will take the chairlift!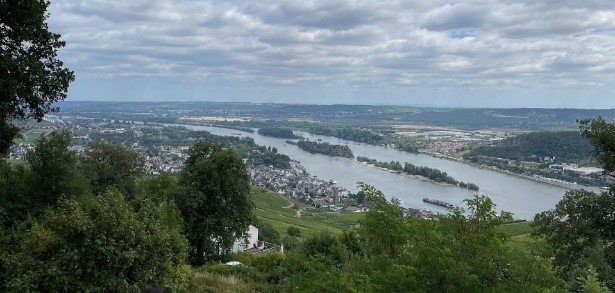 To follow along with Janise's blog on the Splendours of Europe BCRPVPA July 2022 river cruise click on https://bcrpvpa.ca/wp-content/uploads/2022/10/BCRPVPA-River-Cruise-Blog.pdf