Just over year ago I read an article in this very newsletter about a potential river cruise
through Europe. Like so many, I was missing my travel days, so after quick conversation with
my husband, Darrel, we signed on.
As a first time river cruiser I can't imagine a more relaxing, enjoyable way to explore a
new area. In addition to the scenery, we were fortunate to meet and travel with a terrific group
of BCRPVPA members and their friends. The warm welcome they extended us made the trip
even more memorable.
The cruise itself was truly an ABC Cruise. Everywhere we went there was 'Another
Beautiful Cathedral, Castle, Church, or Community'. So many, in fact, they quickly become a
blur. I can tell you I now know the difference between gothic and baroque styles of architecture.
Although my preference leans towards the plainer, less ornate gothic style.
I hope you can enjoy the trip with us in my travel blog.

Day 1: Arrival Day
Here we are on the first day of our cruise. It was a bit of a flight adventure getting here as we left home in a torrential rainstorm only to get to the airport to learn our flight was delayed for two hours. This got us into Toronto at the same time that our connecting flight was scheduled to leave. We were only to discover it had also been delayed two hours. Then as boarding time approached, we had two gate changes within ten minutes of each other. This caused a surge of people, including the pilots and crew, through the terminal. Fortunately, most people took this in stride as delays were pretty much expected.
On arriving in Amsterdam, we hopped on the train and headed into town where we walked to our hotel, the Ibis Styles. Our room was a very clean and comfortable European double. Yes, we would stay here again. From there we were able to walk to our cruise ship, the Emerald Star.
And a pretty ship she was. A long sleek 135 metres in length and only 11.34 metres wide. She has two levels of staterooms, each with wall to wall windows that open halfway to the floor. The best viewing area is on the top level of the ship where, other than the pilot house, was all deck space. An additional outdoor space was on the second level in the bow, directly in front of the lounge\ bar area. The dining room was immediately below this space and tucked away at the rear of the ship was a swimming pool. All was bright and spotlessly clean.



Day 2: Amsterdam-Cologne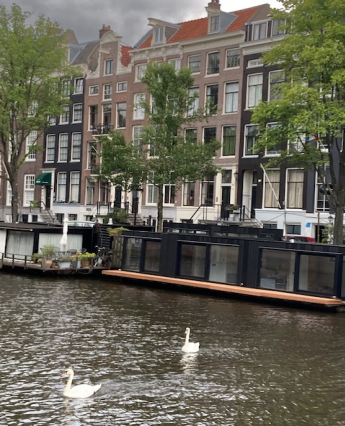 This morning we did a canal cruise on Amsterdam's outer canal where we saw some very expensive private homes and many exclusive houseboats. Many of the other buildings contained very pricy apartments, making the city an expensive place to live. The four-story buildings that are leaning were meant to be temporary accommodations for the workers who rebuilt the city after it was destroyed by fire. They were poorly built and not intended to remain for the several hundred years that they have stood. We then returned to our ship to set sail.
The first section of our trip took us through the Netherlands to the Rhine River. This was our cruising and relaxation time as we had some distance to our first stop at Cologne. It was also our opportunity to become acquainted with the other 54 (out of a possible 180) mostly Canadian, American and British guests on board. We spent our time on the top deck simply enjoying the cruise as we meandered through the flat but picturesque countryside. This is where we were when the Cologne Cathedral came into view.
Once we docked, we bussed to the old core of Cologne. This proved to be a bustling centre of tourism with its colourful buildings and its many pubs. There were lots of young travellers here. The Cathedral itself was as stunning as expected. It's 155 metre tall spires towered above everything around it. The building was a 13th century gothic design with high arched ceilings and long narrow stained-glass windows. It was a good introduction to what was yet to come. From here we made our way back to the ship where we continued on through the night to the Rhine Gorge.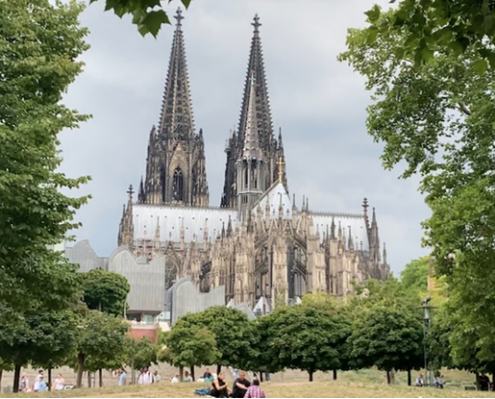 Day 3: The Rhine Gorge
This was the fairy tale cruise day as we travelled through the Rhine Gorge. I made a point of being up early so I could watch the approach to this area and before long I saw the first castle up on the hill side. From there it seemed as though there was one around every bend, nestled on the hillside above a small Bavarian style village. Some of these castles date back to the 12th century and many are now private residences or youth hostels. We passed the famous Lorelei Rock where sailors were said to have been lured into the treacherous rocks by an enchanting siren; and the impressive Pfalz Grafenstein Castle, a former stronghold. It was truly a passage into history.
That afternoon we arrived in Budesheim, a town with a vibrant wine-growing heritage. For the activity of the day we chose to walk through a local vineyard to explore this section of the Rheingau wine region. The 'walk' consisted of a steady uphill climb which included at least a hundred stairs. Once at the top though, the views of the valley were breathtaking. Also, at thetop was the Niederwald monument commemorating Germany's unification in 1871. The walkdown was much easier. Next time, I will take the chairlift!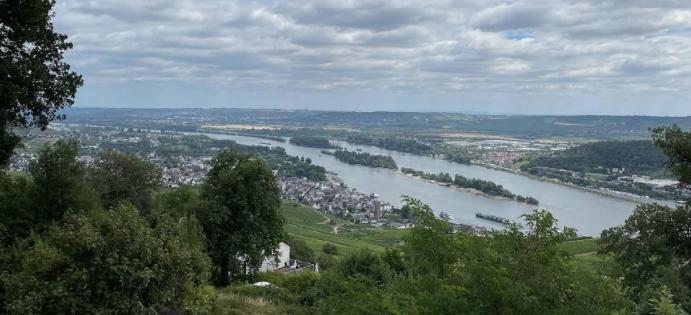 Day 4: Miltenberg – Wertheim, Franconia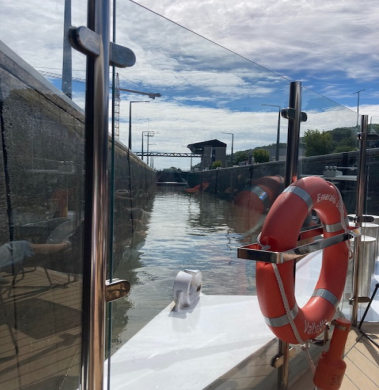 Today has been the day of locks. We are now on
the Main (Mine) River, and we have a total of 76 locks
to travel through before arriving in Budapest. Last
night we awoke with a start when we felt a large jolt
caused by the boat bumping against the sides of one
of these locks. Our ship at 11.45 m wide and the locks
at 12 m in width, make for a narrow fit. The next day
we were informed that the upper deck would be closed
for the next few days as we have some very low
bridges, many associated with the locks, to sail under.
Some of those bridges felt like just an arm's length
away.

We disembarked from our ship in Miltenberg, a very picturesque Bavarian village. It gives a glimpse of life in medieval times due to the 15th-century half-timbered buildings. It really did feel like going back in time. The best way to describe it was like being in a Bavarian calendar. After doing a walking tour through the town, we climbed up to the castle overlooking it (Not nearly as challenging as yesterday's climb). As always, it paid off as the view over the community was stunning.


It was while touring Miltenberg that we were first introduced to 'stumbling stones'. These are small brass 10 cm square plaques imbedded in the cobblestone. Each plaque has been engraved with the names and dates of the Jewish people who disappeared during WWII and have been placed in front of their former residences. They are called stumbling stones as they are raised slightly above the cobblestones so they will be noticed. We saw them in every community we visited.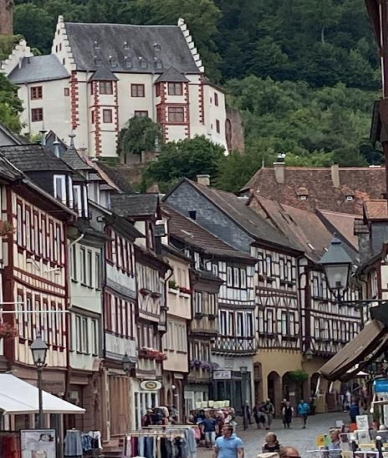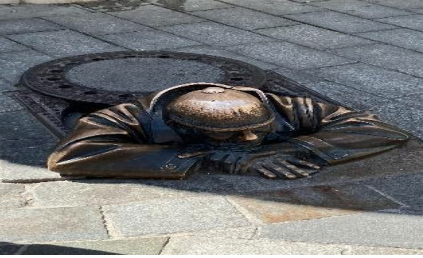 While we were here the Emerald Star continued to Wertheim as it had numerous locks to make its way through. As a result, we were bussed to Wertheim where we rejoined the ship. Wertheim was another Bavarian style community but is much less a 'museum' and more of a lived-in community. Our visit was short before hopping back on the boat. That evening we were entertained by a Zither player, one of five in the country. His lively music kept us spellbound.

Day 5: Wurzburg, Franconia
Another very busy day had us up at 7am and out the door by 8:30 am. A tour of the Prince Bishop Palace left us both somewhat overwhelmed. It is a huge building that was partially destroyed during WWII but has been meticulously rebuilt. The most fascinating part to survive the bombings was the grand entrance with its magnificent staircase. This wide, curved staircase is covered by a vast arched ceiling that is about 5400 square feet in size. It is beautifully decorated with a fresco that is said to be the largest painting in the world. From there we toured some of its lavish rooms including those where Bonaparte and Maria Antoinette slept.
During the war, people had the foresight to protect many of the historical pieces in the palace by removing and hiding them. The beautiful, intricate chandeliers were placed into wine barrels full of melted butter. Once the butter solidified, the glass was completely protected.