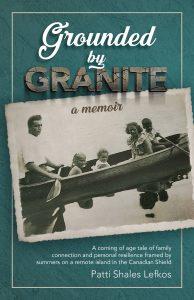 Grounded by Granite A Memoir
Grounded by Granite' is a coming-of-age tale of family connection and personal resilience framed by summers on a remote island in the Canadian Shield.
TO ORDER YOUR COPY
Directly from the author (More funds get to children in 'Nepal this way) Send $32. ($25 for book, $7 for shipping) By etransfer to pattilefkos@shaw.ca or by cheque to Patti Lefkos, Box 3093, Vernon, BC. V1B3M1 Either way, remember to include your mailing address! OR ORDER from any bookstore or Amazon. Ebook available soon. A portion of profit supports education in Aprik village Gorkha, Nepal.