Inside this issue:
2022-2023 Executive Meetings
2022-2023 General Meetings & AGM
President's Letter
Past President's Report: 2022 – 2023 BCRPVPA Executive
Roles of Past Executive Members
Website Committee
Vice President Report
Scholarship/Bursary Report
Membership Recruitment
Speakers' Presentation
Volunteers Needed
Chapter Council Report
Know BCRPVPA Member
A Get-Away to Victoria
BCRPVPA Savings Program
Photography OpportunityAGM
---
2022-2023 EXECUTIVE MEETINGS
All Meetings Begin At 10:00/am
WEDNESDAY, SEPTEMBER 14, 2022
TUESDAY, NOVEMBER 22, 2022
WEDNESDAY, FEBRUARY 22, 2023
WEDNESDAY, APRIL 26, 2023


2022-2023 GENERAL MEETINGS & AGM
All Meetings begin at 10:00/am
WEDNESDAY,   OCTOBER 19, 2022
THURSDAY,      JANUARY 19, 2023
WEDNESDAY,   MARCH 29, 2023
WEDNESDAY,   MAY 17, 2023  (AGM)
---
President's Letter for June Newsletter
Submitted by Christine Johnson
Often house moves happen in time for school starting up following the "Summer Holidays", even when those involved have no school-age children and sometimes none at all.
For many, the beginning of a new school year marks the start of another year and is as important as the official one.
Parents and Grandparents alike breath a sigh of relief and children become anxious to see their friends. Youngsters who are leaving Elementary for Secondary are sometimes a bit nervous as they anticipate becoming a "serious" teenager.
One of my Grandsons is entering grade twelve (12) in September and is absolutely in awe of the fact that he will graduate in June of next year.
Many of you maybe miss the busy aspect of school life and the multi-tasking that became part of our every day.
When I first retired (at the end of first semester), I was unable to be on the road at the same time as students going to school and was overcome with feelings of guilt and longing. It took about three months for me to drive past young people on their way to class.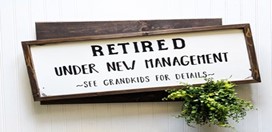 Many of you are in one of the several phases of retirement and those of you who retired in the past three years are in a different phase altogether where no district-wide celebration was able to take place in person.
In whichever phase you find yourself, you will be glad to hear that a meeting was held between members of our Executive and the CEO of Human Works, a counselling service of which several among you may have availed yourself during your time with the BCPVPA. More meetings are being scheduled and you will be kept informed of our progress.
Have a restful Summer, Christine Johnson, President BCRPVPA
---
Past President's Report
Submitted by Ted St. Pierre
Please find below the results of the newly elected BCRPVPA Executive for the 2022-2023 Fiscal Year.
The election was conducted according to the BCRPVPA format as indicated
on the bcrpvpa.ca website, under the caption CONSTITUTION, Article 9.


ARTICLE 9 OFFICERS and EXECUTIVE MEMBERS
(as per the BCRPVPA Constitution)

9.1) Officers of this Association shall be the President, the Past President,
Vice-President, the Secretary, and the Treasurer.
9.2) The Executive Committee of the Association shall consist of the President, Past President,
V-P, Secretary, Treasurer and 5 to 9 Members-at-Large.
9.3) Unless elected by acclamation, the members of the Executive Committee
of the Association shall be elected by secret ballot at an Annual General Meeting
with nominations being accepted from the floor.
9.4) If for any reason a vacancy occurs in the membership of the Executive Committee,
the President, acting on the advice of the remaining members of the Executive
Committee, may appoint a Member to fill the vacancy until the next Annual General Meeting.


MEMBERS-at-LARGE shall: (as per the Constitution & revised 2021 Bylaws)
The Members-at-Large shall:
serve and assume various responsibilities within the Communications Committee and/or the
Member Services Committee to assist the executive committee. Areas of responsibility
of the Communications Committee include Technology, Website, Newsletter, Yammer,
Mail-outs, Mentorship, and Surveys.
Areas of responsibility of the Members Services Committee include Membership, Sunshine, Speakers, Affinity. Scholarship, and Pensions. Each area of responsibility will have several
Members-at-Large serving on it and the lead individual will change yearly to promote
knowledge of the Association and succession.
2022-2023 Executive Slate: Elections at the AGM:
Named Positions:
The positions of President, Vice President, and Past President, are traditionally held for 2 years. However, because circumstances can change, this is not in our constitution and so these positions must be declared open each year.
The following BCRPVPA Officers for 2022-2023 are:
President: Christine Johnson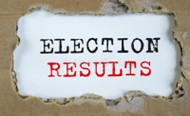 Past President: Ted St. Pierre
Vice-President: vacant
Secretary: vacant
Treasurer: vacant
5 – 9 Members-at-Large (all 5 elected)
Marsha Arnold; Jeff Larcombe; Deborah Luporini; Paul Taylor; Elaine McVie
The following current Executive Members are thanked for their many years of contribution to the BCRPVP Association:
Eileen Phillips; Celina Mau; Allan Buggie; Lanny Young
---
Roles of Past Executive Members:
Eileen Phillips
It has been my pleasure to serve on the executive board for the last 12 years.
During this time, I have taken on various responsibilities: e.g.
1) Providing food for meetings; 2) contacting and liaising with speakers for our General Meetings, 3) writing summaries of presentations for the newsletter, 4) arranging wine and gift cards for door Prizes; 5) working on the scholarship committee, 6) planning with Kevin Reimer (BCPVPA) for
the initiation of the mentorship program; 7) taking meeting minutes, 8) doing the newsletter mail-out; 9) representing us at Chapter Council;
10) representing us at the AGM of the BCRTA; 11) helping to organize and work at book sales; and 12) serving as Vice-President, President,
and Past President.
Each of these roles has been fulfilling and has offered me opportunities for personal growth
and to meet wonderful, caring educators and former educators.
I encourage any members who have an interest in leadership and service to step up
and take an active role in the BCRPVPA by becoming an executive member.
As you can see, there are many areas where you can use the skills developed during your careers.
Thank you for the privilege of serving you since 2010.
Sincerely,
Eileen Phillips
---
Roles of Past Executive Members:
Celina Mau:
I would like to personally extend my utmost appreciation to each of the past and present executive members for accepting me into your association since the Fall of 2017 and for mentoring me over the years. I have learned a lot from each of you:
My roles as
1) Secretary; 2) July Used Book Sale; 3) Committee Member; 4) Newsletter Editor;
5) Communications Rep.; 6) Vice President; 7) Memberships; and 8) Sunshine Rep.
Thank you for the opportunity to connect with our 750+ members over the years. What an invaluable experience! I have come to understand the importance of our Association's existence.
Best wishes to all!
Celina Mau


Roles of Past Executive Members:
Lanny Young: Treasurer:
Receive Quarterly Financial reports from Carol Powell – BCPVPA Director of Finance
Analyze and report to Executive and at General Meeting
In April, seek input from Executive members in preparation for the Proposed Budget
for the coming year (July 1st to June 30)
Share and discuss the Proposed Budget at Executive meeting in April –
amendments if necessary
Recommend the Proposed Budget at the May AGM – motion to adopt
Also recommend the annual membership fees at AGM in May
Forward the approved Proposed Budget to Carol at BCPVPA
Throughout the year:
1. Receive copies of claim forms and receipts and approve all expenses related to BCRPVPA,
2. Forward claims to Carol Powell for reimbursement directly to members / service providers/etc.
3. Communicate with Carol Powell at BCPVPA in matters relating to our association's finances.



Roles of Past Executive Members:
Allan Buggie
Many thanks to Allan for his years of dedication as member of the Scholarship Committee,
Affinity-Benefits-Pensions, & former Website Committee, to name a few roles.
---
Website Committee bcrpvpa.ca
Submitted by Ted St. Pierre
The bcrpvpa.ca website is currently up to date with past newsletters, past General & AGM minutes, Affinity-Benefits-Pensions, the constitution, bylaws, Membership Application. The Website Committee has received many suggestions for updating the website's design.
This will be the first major update in 6 years, with the goal to make our website easily accessible with everyone's technology ability.
Stay tuned for an exciting modern new website design in 2023.
Many thanks to our dedicated Website Committee members Marsha Arnold, Jeff Larcombe, Paul Taylor, Christine Johnson, & yours truly, Ted St. Pierre.

---
Vice President Report
Submitted by Celina Mau
The final 'in person' Chapter Council Meeting of the year was scheduled for Friday & Saturday, May 13-14, 2022. Unfortunately, I fell ill with a cold and a cough, not Covid related, hence, Marsha Arnold, our Affinity Benefits and Pension Rep. had kindly stepped in at a moment's notice and she did an excellent job in this membership drive.
Please read below, a brief report of the meeting from our President, Christine.
Yammer Sign Up
Let's get connected on Yammer! What is that? You may wonder . . .
This is a platform for our members to share information, exchange dialogues of interest.
Timely communication of topics such as Pension, Affinity & Benefits, Gardening, Travel as well as postings of our Association Newsletters and announcements of Annual/General Meetings, Speakers' Program are shared and updated throughout the year.
For more information about Yammer and BCRPVPA,
please read our BCRPVPA April 2021 Newsletter, titled 'Joining Yammer'.
Here's the link to the article, https://bcrpvpa.ca/chronicles-capers-issue-85/.
Many thanks to Gerald Soon, our Past Vice President for the write up of this article.
Here is the link to sign up with Yammer, https://www.yammer.com/bcrpvpamembers.
We look forward to welcoming you personally on Yammer!
Here's how retirees can join our association . . .
Interested in having your just or soon-to-be retired colleagues joining our association?
If so, please share the three simple steps below which will help them retrieve the 'Join' Membership Form from our website.
Go to 'bcrpvpa' website. (bcrpvpa.ca)
Click onto 'Membership'. (Use the guided hand and place it on the orange bar)
Scroll down to 'Download Application Brochure' et voilà!

Updating your contact information
Anytime throughout the year, if members have moved (home address)


or changed their email address, phone number, please send an email to
bcrpvpa.communications@gmail.com (good to June 30, 2022) or
bcrpvpa.membership@gmail.com (as of July 1st, 2022),
or a note via Canada Post to BCRPVPA c/o Membership Rep. at
200 – 525 10th Avenue Bikeway, Vancouver, BC V5Z 1K9.
Thank you for your attention in this matter.
Best wishes to all. Celina Mau
---
Scholarship/Bursary Committee Report
Submitted by Jeff Larcombe
Over the years we have tried to direct scholarships to students who not only achieved a high academic standing, but who also demonstrated excellent service both in their school and community. Often such students also achieve very well in sports and/or music activities.
The awards from the BCRPVPA are also available to students who may choose to enter the trades rather than attending university. In awarding the scholarships, the committee is also very aware of considering any students whose family is financially challenged.
This year we awarded 10 scholarships to very deserving students – each worth $1000.
This is the third year that we have been able to award additional scholarships from funding received through HearingLife (www.hearinglife.com).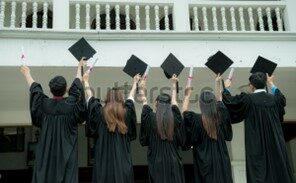 HearingLife is delighted to be involved with us in supporting young people pursuing their future goals!
This year we awarded two $2000 scholarships to very worthy individuals from this funding.
One of the biggest changes we made to our Scholarship Committee this year was changing the date of application from September 30 to March 31.
Last fall we decided to change the time of application to be more in line with when many other scholarships are offered.
This year we received a record 56 student applications from many parts of the province! We are delighted to report that we awarded scholarships to students in: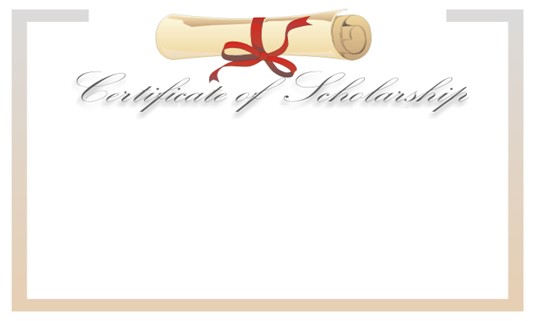 Castlegar,
Surrey (2), Port McNeill, Nakusp,
Richmond (2), Burnaby, Squamish,
Coquitlam (2) and Powell River.
Eight boys and four girls received
our BCRPVPA scholarships.
Because some students have expressed their pleasure with being featured in one of our Newsletters, the Committee decided to again forward a copy of the future Newsletter in which their article appears.
In addition to notifying the successful applicants of their awards, we feel it is also important to communicate with all unsuccessful applicants. Several of these students actually wrote back a letter thanking us for informing them, expressing their best wishes to all the successful applicants and thanking the BCRPVPA for considering their application!
It has been very rewarding to sit as a member of the Scholarship Committee, along with Christine Johnson, Celina Mau, Paul Taylor, and Allan Buggie! It is also very gratifying to know that our Association is supporting students in our province financially to further their education!
---
Membership Recruitment Committee Report
Submitted by Committee Members: Christine Johnson, Deborah Luporini, Celina Mau
At the April Executive Meeting, our executive supported the committee's proposal to pursue a recruitment drive. In so doing, we are offering a one-year FREE membership to all BCPVPA members upon their retirement starting in July 1st, 2022.The revised application form (dated May 2022) reflected such a change. Many thanks to our President, Christine Johnson for working closely with BCPVPA Director of Finance, Carol Powell, and Sandra Murphy, Director of Communications on the revised form.
The recruitment drive was launched at the May 12-13 Chapter Council Meeting by our President, Christine Johnson with Marsha Arnold in attendance. A package with our Membership Application Form and our Chronicles and Capers Newsletter (April 2022) was distributed to all Chapter Council Representatives so that, upon their return to their district, they could share the information with their team of administrative colleagues.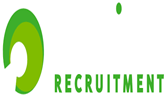 Rationale for such a recruitment drive?
1. BCRPVPA wishes to:
Make a connection with our working colleagues,
members of BCPVPA beyond the BCPVPA
Mentorship Program, and the Scholarships Committee; and
2. Bridge a smooth transition from the active PVP
membership to the active RPVP association.
During our year-long exploratory work of 'Why join BCRPVPA?', through discussions with BCPVPA Executive Director, Kevin Reimer, and information provided by our executive members who retired during Covid, it became apparent that, if we were to 'walk the talk' of our Mission Statement, our association needed to provide some transitional support service to our working BCPVPA colleagues moving into retirement.
An example of one support service in the planning stage included the efforts of collaborating with Human Works, a counselling service that many of our BCPVPA members tapped into during those challenging months of the pandemic.
In summary, the statements below help distinguish who qualifies for what.
Members who are retiring from BCPVPA as of July 2022
BCRPVPA is waiving the $20/annual membership fee to applicants who are retiring from BCPVPA as of July 2022. Afterwards, their membership fee will be collected annually from TPP automatically
Members who retired from BCPVPA before July 2022
As was past practice, BCRPVPA will continue to collect the annual $20 membership fee from interested applicants who retire before July 2022 regardless of when they decide to join our association.
---
Summary of Speakers' Presentation at AGM, May 11, 2022.
Submitted by Eileen Phillips
We were pleased that Laurie Van Wyk and Katie Koebel from our affinity partner, HearingLife, were able to present to us at the AGM. Their talk, titled Hearing 101, was well received. Here are some highlights that will give you a glimpse into the talk.
As always, you are strongly encouraged to go to our Yammer site and view/listen to the whole recorded presentation.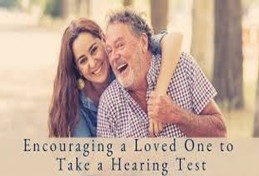 In General:
Hearing loss is usually gradual and can go undetected for years.
Often those around you are the first to notice changes to your hearing.
Noise exposure is the biggest reason for hearing loss.
Signs of hearing loss include: people sound like they are mumbling; background noise is overpowering conversation; you find yourself needing to turn the volume up; you find that you stop actively listening when in a crowded space; you find you often misinterpret what is being said due to incorrectly 'filling in the spaces.'
As we age, our range of hearing can narrow and often tolerance to loud sounds decreases.
Untreated hearing loss can lead to the avoidance of social situations, resulting in isolation, depression, and the acceleration of cognitive decline.
Tinnitus is noticed by about 15% of the population and, of these, 90% have hearing loss.
A baseline hearing test is free to our members and their family. Family includes spouse, children, parents.
You do not need a doctor's referral to get a hearing test.
What Does the Baseline Test Include?
Your ears will be checked for any blockages that could be affecting your hearing.
A case history of genetic hearing loss will be taken as well as asking for a list of the medications you take.
The test involves responding to a series of sound beeps ranging in intensity, length, and frequency. It takes about 30 minutes.
You will be given a printout of your baseline test results.
There is a video explaining the test on the HearingLife
People over 60 years old are encouraged to have a hearing test once a year; those under 60 are encouraged to have one every 2 to 5 years
If you have impacted ear drums or if there is any sign of damage to the ear you will be referred to an ENT specialist.
If you notice hearing loss, it is better to seek information earlier rather than later.
Hearing is a brain-related issue and retraining takes longer the more advanced the loss is and the longer you have left it undiagnosed.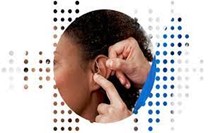 If You Find That You Have Hearing Loss, What Do You Need To Consider?
The type of hearing aid(s) you want – e.g., size,
level of technology.
Batteries or rechargeable?
What accessories might you like?
The amount of care and adjustment needed.
The environment where you most need them.
If you have further questions, please contact either of these representatives from HearingLife and they will be happy to help you:
Laurie Van Wyk's email: lauw@hearinglife.ca
Cheryl Anderson's email: cead@hearinglife.ca
Thank you to the members who were able to join us for the talk. And congratulations to Allan, Celina, and Bonnie who were winners of door prizes presented by the speakers.
This concludes the Speakers' Series for the 2021-2022 year. It has been my pleasure to liaise with the various speakers on behalf of the BCRPVPA membership.


---
Volunteers Needed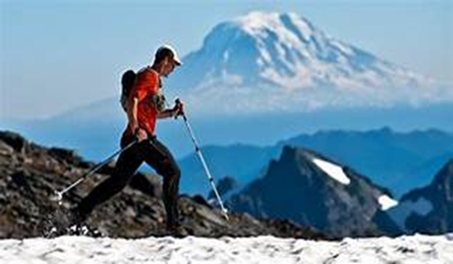 The B.C. Mountaineering Club
organizes mountaineering, rock climbing and back country skiing trips throughout the year.
The BCMC holds monthly socials, offers courses to members, and represents the interests of mountaineers and back country skiers in British Columbia. BC Mountaineering Club (bcmc.ca)
The B.C. Mountaineering Club is maintained and improved by the generous and very much appreciated volunteer help provided by many of our members, both new and older members. The amount of time ranges anywhere from a couple of hours each week to a few hours per month. All helps toward maintaining and improving our club. Please consider giving back to the outdoor community by donating some of your free time to helping our club improve and grow in areas that interest you.
Please contact us and to let us know which volunteer area would interest you.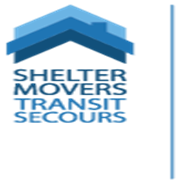 Shelter Movers is a national charitable organization that provides free moving and storage services to survivors fleeing abusive households. We collaborate with local businesses and community agencies such as women's shelters and the police to help women transition to a life free of violence.
Our trained volunteers transport survivors' belongings as well as take the survivors and their children to a safe transition house, and later help them move their belongings to their new home. All of this is done at no cost to the survivors and on their own terms. Please let us know if you would be interested in supporting survivors in any capacity: moving, driving, intake, move coordination, volunteer management, marketing, fundraising, etc. Ida Wang, Vancouver director
ShelterMovers.com charity #77632492RR0001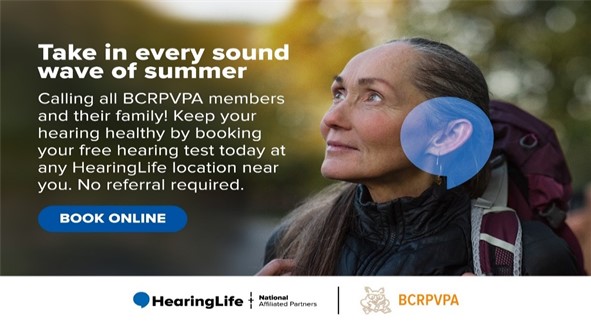 Click on this link to book an audiology test online
https://bit.ly/3L7m2wh or call 1-885 778-4143



---
Report from Chapter Council Meeting, May 13th & 14th, 2022
Christine Johnson & Marsha Arnold (Celina's sub) attended.
Held in-person at the River Rock Hotel-Whistler Ballroom, in Richmond, this CC Meeting consisted of reports (including financial); the presentation of awards; candidate speeches; table talk; and guest presentations.
The Friday evening agenda began with the Partnership Awards, and it is definitely pleasurable to see how many schools are so closely linked to community organizations that provide important services and opportunities for our students.
I proffered greetings from the BCRPVPA and explained our current Membership Drive re the handouts which we distributed. Table Talk about the current challenges in schools clearly pointed out that it is great to see kids in person and to gain perspective through relationships and 'Senior Teams' but that staff shortages were an ongoing problem. This was followed by speeches from candidates for BCPVPA Directors, voting for which
will commence online next week. Of the nine (9) candidates, five (5) will be elected.
Saturday began with a presentation from BCPSEA (BC Public School Employees Association).
This is the bargaining year and the team talked about streamlining, the current structure,
and labour relation issues. Cost of Living is the key issue. More news will follow.
Provincial bargaining began on March 15th and is happening three (3) times a week.
The BCPSEA is working on a 'recruitment drive' to try to increase the number of Exempt and Support Staff.
The Financial statements and Budget were presented. Each program was discussed to show how the Budget jibed with the Strategic Plan. Staff input is sough before the Budget comes to Chapter Council and is approved by the Board of Directors. The savings from the Covid years will likely wipe out the projected Deficit.
Kevin Reimer spoke about the need to change the Strategic Plan according to
'Changes in the landscape' e.g., anti- racism & equity.
Table Talk: Is the role of Principal and Vice really a management one?
Any suggestions for next year's Strategic Plan?
Kevin's report included the results of a survey on Diversity and Equity.
A Principal and Vice-Principal is not just an employee re the definition of the
Labour Relations Board but is more of a Supervisor.
The report by the Communications Team included the support given to Principals and Vice-Principals in various challenging situations, Student Voice giving young people a chance to give feedback, and with the positive change in application date resulted in 119 applications for Scholarships for which twenty (20) are selected.
The report by the Professional Learning Development Team included the many opportunities provided. There have been modifications in accessibility to make more user friendly and integrated. This year's Short Course to be in person.
The Deputy Minister for Education & Child Care, Christina Zacharuk, was the Guest Speaker.
The theme of her Ministry is Reconnect, Rejuvenate, Rejoice.
She spoke about three (3) categories of priorities: Truth & Reconciliation, Child Care and Anti-Racism. (Visit the Government website to see the roll-out of these programs).
She also spoke about the changes in Assessment and the Indigenous Studies course for Graduation. These programs are scheduled to begin in 2023 for gr. 10-12.
Darren Danyluk spoke about his leadership preparation and his time with the BCPVPA since 1995. He also spoke about the need for compassion, and recounted stories which pointed to the chronic stress under which Principals and Vice-Principals have been working. "Just because you carry it well, doesn't mean it isn't heavy."
He was in awe of the personnel from the BCPVPA with whom he has worked and bid his farewell. He will be missed but will still be contributing as past president.
Brian Leonard, the President-Elect, also spoke in Darren's honour.
Submitted by Christine Johnson
---
Getting to Know Our Amazing BCRPVPA Members
Spotlight on Ragini Kapil
Although Ragini dearly misses the Delta and Surrey educational community, she is delighted that her latest endeavors are still helping to achieve life-long educational dreams. As a recent retiree, Ragini has used her considerable screen writing and acting talents to start a Film Production Company. Her short film, "All Kinds of Weather" has won international acclaim. https://www.youtube.com/watch?v=pam6MFICzOk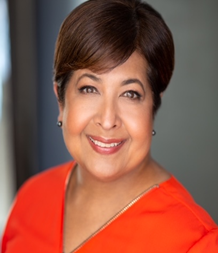 Ragini and her husband are excited to be moving back to Vancouver, close to her mother, children, and adorable granddaughter. She believes that one should, "Never underestimate the power or impact of one simple interaction, no matter how small." This positivity continues to motivate Ragini to celebrate each step of her life journey.
Describe your involvement in education in three sentences.
As a fourth-generation educator, a focus on learning is in my blood. My own educational road was challenging, but it helped me to develop a passionate focus on finding keys to motivate all students to succeed on their individual journeys. I want to be able to contribute more and to find a way that my skills and experience would be beneficial to the educational community.
Describe yourself in three to five words. Perennially cheerful, creative, loving, hopeful.
What two things are you passionate about? My family and happiness.
What 'drives you up the wall'? Ignorance.
Tell us about the dreams you have or want to achieve. I have visited my dream of becoming a filmmaker and continue to pursue my love for acting. Developing the confidence and going for it is the biggest challenge.
What goal you hope to reach in the next 12 months? I hope to share a short film I've made about the development of stand-up comedians. It's called "The Comedy Doula."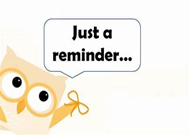 Getting to Know Our Members:
If you are willing to put your name forward for this newsletter feature, email us at info@bcrpvpa.ca as we'd love to connect with you!
Contribute to our Newsletter: We welcome member's contributions at info@bcrpvpa.ca
---
A May quick get-away in Greater Victoria
By Celina Mau
I had the pleasure of taking advantage of a 2 night/3 day in Victoria a few days ago, organized by my girlfriend who felt that I needed a holiday. What a concept for us retirees to be 'needing' a vacation!
We chose to travel during the week because everywhere we went, there would be fewer people and less traffic. BC Ferries had a deal on allowing us to reserve our tickets in advance while Bear Mountain Resort in Langford offered an upgrade to our room. It was a perfect mini-holiday!

Day One: Shortly upon arrival on the Island, we drove to the Olympic View Golf Course for our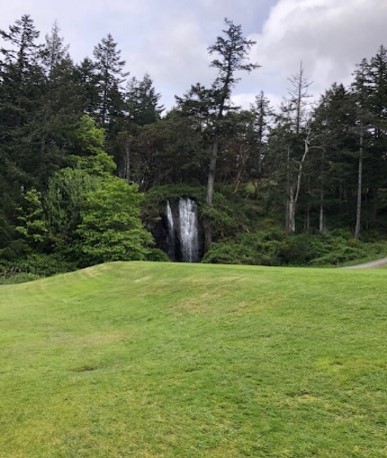 1pm tee time. The day was beautiful but cool. The grounds on the course were impeccable and the grass lushy green. We had a great round of golf with a couple who were friends of my girlfriend. After golf, we took advantage of its 'Tuesday Date Night' at Table Nineteen. The dinner at $70 for two, consisted of one appetizer to share, one each of a dinner entrée and one dessert to share. The four of us ordered a yummy Flash Fried Calamari and a Vegan Vegetable Pakora as appetizers. For dinner, two of us had an extremely generous portion of Moroccan Spiced Lamb Shank while the other two had a Braised Beef Short Ribs. For dessert, we had a hot pink chocolate torte cake! The meal was sumptuous, and we washed them all down over a glass of red wine. Yummy!
Day Two: As it was an extremely windy and rainy day, my girlfriend and I decided to go to Willow Stream at the Empress Hotel for a morning spa retreat after having our morning coffee and a light breakfast at a nearby Murchie's. The service was fabulous and the staff there were all masked. All the clients were 'in and out' for a one-hour service within a two-hour period, unlike the pre-pandemic time. The service of hot tub, sauna and mineral pool and regular size swimming pool were offered, yet no one took advantage of it. We all convened in the relaxation lounge for both the pre- and post-service. Lemon water with several types of herbal teas such as Moroccan peppermint chamomile and peach ginger were offered along with cupful of assorted nuts. I sat there after my spa treatment and quietly sipped my tea listening to the soothing music! We had reservation for lunch at the B. C. Legislature Dining Room at one in the afternoon as that was the reservation time for the public.
Now, this was interesting as we had to show our proof of vaccination card as well as our photo ID. I had already forgotten this procedure as B.C. has moved away from it since April 8.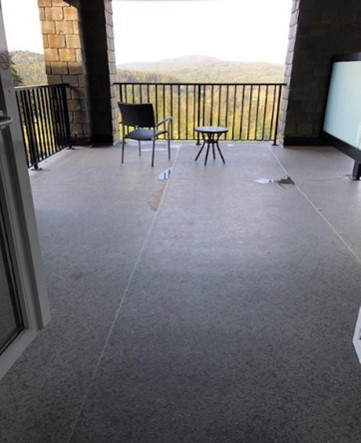 How fast we forget! . . . For those who have not yet had lunch there (that's me!), the security guards told us that they would only allow us inside once the dining room was cleared from the Legislature employees. You might ask, so how would they know? Well, the guards would receive a call from the dining room staff, usually close to 1pm. Hence, if one were to arrive early, one had to wait outside to be queued up. Once seated in the dining room, we ordered our meal, and my dish was seafood linguini with toasted garlic bread while my girlfriend had the shrimp salad wrap with fries. The portions were extremely generous, almost like dinner size. We shared a slice of chocolate cake as our dessert.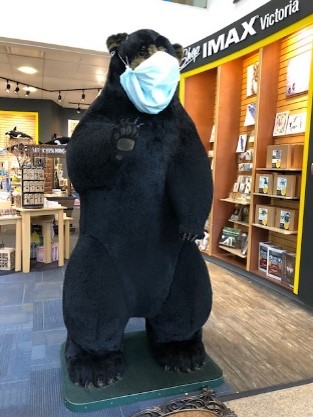 Leaving the Legislature, we visited the Royal BC Museum and were welcomed by a HUGE manikin black bear with a mask on at the souvenir shop! How cute he looked! The display upstairs featured our Natural History of BC with a focus on the climate change from warm dry hills of Vancouver Island to the misty cool northlands of Haida Gwaii. This interactive exploration made us reflected upon how we ought to be more protective of our environment and what would be the negative implications for us, British Columbians! To end off our museum visit, we took in a panel display of Bats.
Once outside, we were almost gusted away by the piercing wind! In a split second and in unison, we chose to return back to Bear Mountain Resort and decided to anchor down for the night. We managed to enjoy our huge balcony overlooking hole 18 of the Bear Mountain Golf Course before darkness sat in.
Sadly, just before dusk, the hotel power went out. I called the front desk and was told that B.C. Hydro was trying to fix the problem and there was no timeline for the power to come back. So, our adventure began with no power for the rest of the night. Luckily, my girlfriend had the common sense to ask for a flashlight, and she came back with an 'oil' lamp.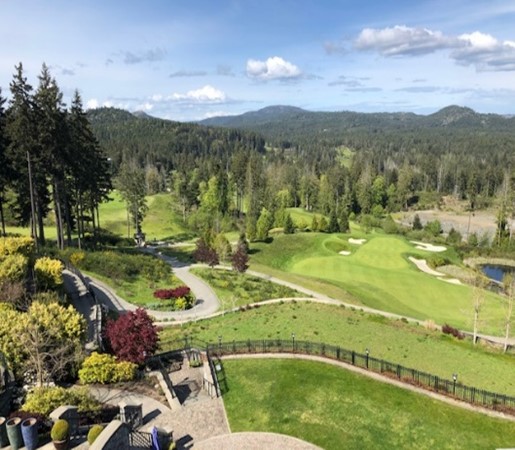 We managed everything with this lamp wherever we went in our room. The experience I gained from this power outage was that we had come to rely quite heavily on electricity and have taken it for granted. Throughout the night, there was no TV, no cell phone, no surfing of the net, no texting, no listening to music from our favorite playlist, and definitely, no hot tea or coffee, as they all needed electricity. We consciously chose to conserve the little power we still had on our iPhone for emergency use only. So back to basics, my girlfriend and I chatted a bit before calling it a night!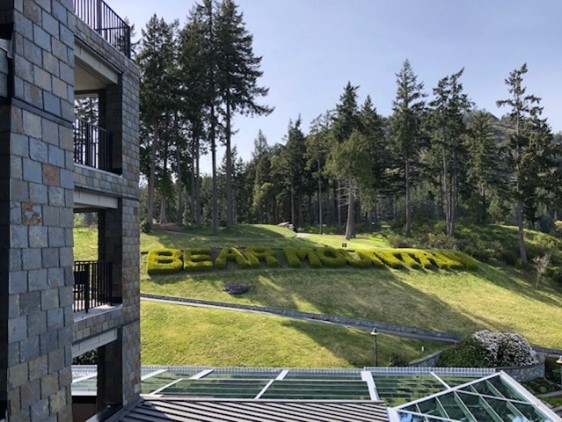 Day 3: The next morning, and guess what? We woke up to no electricity! So, without talking to each other, we decided, quickly, to complete our morning routine before bidding good-bye to Bear Mountain Resort. We drove to the Roost in North Saanich for a good mug of coffee, a hearty breakfast and a delicious blueberry cinnamon bun, fresh out of the oven! After stuffing ourselves like 'pigs', we wandered around Beacon Avenue in Sidney.
The area had lots of great locally owned trinket-type boutiques ranging from women's clothes, kitchen cookware to bath and beauty products. It reminded me of the shops on Granville Island, on South Granville Street in Vancouver as well as Steveston Village in Richmond. All in all, it was a beautiful get-away. I felt rejuvenated and relaxed. My girlfriend was right about me needing a much-deserved R&R! Goodbye to Victoria and Hello Vancouver as we took our ferry back to the mainland!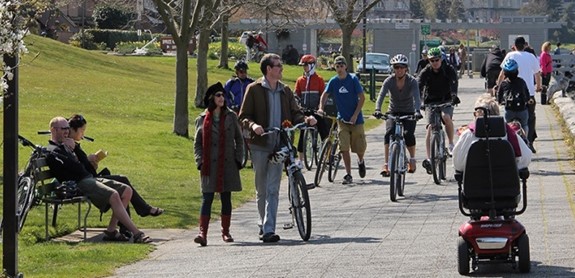 Vancouver – South-False-Creek-Seawall
Enjoying easy walking, cycling, & jogging in BC.
An excellent way to keep a daily exercise workout in retirement.
---

BCRPVPA Savings Program

Reserve and Save on Airport Parking
New BCRPVPA Discount Code as of June 20th, 2022. Code: 1120427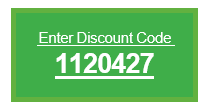 Reserve via Park'N Fly App: Easily reserve your next parking stay using the Park'N Fly app and get the lowest rate! Plus, save your payment information to your reservation and you'll be able to check in and out from the convenience of the app. Download today or click to learn more at www.parknfly.ca/app

Reserve as a Rewards Member: Existing Park'N Fly Rewards members can sign into your rewards account and start getting the lowest parking rates by adding your corporate discount code to your profile. Sign into your account via the Park'N Fly Canada app or online at parknfly.ca/rewards.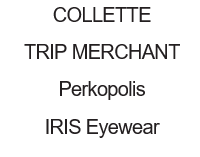 Not a Park'N Fly Rewards Member? Enroll today by


clicking Join Now and start earning free days. Plus, Aeroplan members also earn 50% more Aeroplan points when you add your member number in your Park'N Fly Rewards profile.
3. Reserve Online: Click RESERVE ONLINE (Vancouver Airport Parking YVR l Park'N Fly (parknfly.ca)), select your preferred location, and enter your travel dates and times to reserve your next parking stay.
Visit our website: Membership Benefits – BCRPVPA for more offers.
---
Photography Opportunity for BCRPVPA Members submitted by Marsha Arnold
We're sure you have some photos stored on your camera, phone or iPad just waiting to be shared!


Here's the criteria:
Submit digital versions of high-resolution photos
Photos must be original works and member must hold all rights
Up to 5 photos per person can be submitted
Identify approx. where each photo is taken
All photos to be sent to info@bcrpvpa.ca
Five prizes will be awarded through random draws (one per participant).
If a person is in a photo, a signed permission form is required and can be forwarded if needed.
Topics are Your Choice: Scenery, animals, historical settings, sports, objects of interest, etc.
Photos must not contain violence, profanity, sex or direct attacks on individuals or organizations.
Photos must be received by September 30th, 2022, along with your preferred contact information.
Pension Protection and Petition
The Canadian Association of Retired Teachers (ACER/CART) and the National Pensioners Federation (NPF) are promoting the following e-petition supporting further pension protection. While our public sector pensions are protected, many in private sector plans (e.g., the Sears retirees) need similar protections. The BCRTA Board passed a motion of support for the e-petition and BCRPVPA members are also encouraged to support this petition as well.
Click on: https://petitions.ourcommons.ca/en/Petition/Details?Petition=e-3893 to respond.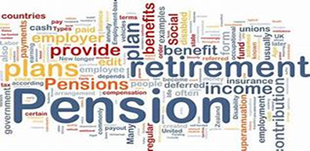 This petition is a House of Commons e-petition, secure and safe. It challenges the federal government to develop a solution to ensure all pensioners continue to receive 100% of their pension.
---
CONTACT INFORMATION:
Please continue to update changes in email and mailing addresses by contacting:
info@bcrpvpa.ca
Next General Meeting: Wednesday, October 19, 2022 @ BCPVPA Office
Articles for First Newsletter of 2022-2023 Fiscal Year: November 1, 2022
Articles are sent to: info@bcrpvpa.ca
---

Walking, cycling & running:
A terrific way to help keep our muscles relaxed as we age.
---
2021 – 2022 BCRPVPA EXECUTIVE
President: Christine Johnson
Vice President: Celina Mau
Past President: Ted St. Pierre
Treasurer: Lanny Young
Secretary: Eileen Phillips
(Minute Taking)
Benefits/Affinity/Pension: Marsha Arnold
Communications + Newsletter Editor: Celina Mau & Ted St. Pierre
Membership + Sunshine: Celina Mau
Newsletter mail out: Eileen Phillips
Scholarships: Jeff Larcombe, Allan Buggie, Christine Johnson, & Paul Taylor
Speakers: Eileen Phillips
Technology & Website: Ted St. Pierre
Members-At-Large: Deborah Luporini (Co-Membership) and Elaine McVie (Special Project on Supporting Members)
June 2022 Newsletter Editor: Ted St. Pierre