Inside this issue:
President's Message
So, what about a River Cruise?
January 22, 2020 Speaker Graham Best on 'Retaining the Power of Memory for Active Seniors"
March & May 2020 Upcoming Meeting Dates and Program Description
TPP Pensions News
Scholarship Committee Report
Mentorship Recruitment
2020-2021 Executive Recruitment
Membership Information Update
Calling for Book Donation!
President's Message (Aka Ted's Talk)
The latest BCRPVPA Updates were sent to all members in mid-January, prior to our first General Meeting in 2020.  Guest speaker Graham Best kept everyone focused for 3 hours with his stimulating presentation on Memory. A summary of his presentation is accompanied as a separate attachment.
Please see further information below with respect to our BCRPVPA. We look forward to meeting our members at future General Meetings.
---
So, What About A River Cruise?
By Gerald Soon
There are so many travel options once you are free to explore the world. In leaner times when our family was young (and we were younger), we camped! Once the kids were grown and gone, road trips changed to motel trips, and eventually the concept of cruising was affordable.
We have done a number of ocean cruises, mainly with a couple of companies, but soon tired of the large number of people on board, the constant photos being taken of you (for purchase), and the buzz of activity every day, oh – and don't forget the on-board purchases for excursions, drinks, and trinkets.
When our travel friends suggested we go on a River Cruise with them, we met and discussed the various options open to us. They always wanted to go to Paris, I always wanted to go to Normandy, France, and my wife liked the idea of a smaller ship cruising down a river. We were set!  We booked a trip with Viking River Cruises, choosing the two extra days in Paris as the hors d'oeuvre!
We chose the Viking Flight option – going direct from Vancouver YVR to Paris CDG, and nothing could have been simpler! Park the car at the Park n' Fly, check in, and relax! Once we landed, gathered our baggage and walked through the exit doors at airport customs in Paris, voilà! The Viking people were there beside a red sign, clipboard in hand with our names on the list.
We were scooted off to our hotel in a private vehicle, and I noted very quickly that MANY French drivers on the roadways were not versed in the "No Handheld devices while driving!" rule.  As I nervously watched our driver, I was somehow intrigued by the soccer match that he was watching at the same time!
Reaching our hotel unscathed, we checked in.  The large number of people on our ship who had also chosen the two-day option were booked into the same hotel – The Hyatt Regency Paris Étoile.  Not our first choice – if my wife and I were on our own we would have chosen something more… Parisien.  But, we were a captive audience and besides, we had the Viking concierge at our disposal – AND there were guided walking trips that were included during our stay. We had a wonderful view of the city and of 'le tour Eiffel' as it sparkled at night.
We learned very quickly that Viking only employs qualified tourist guides that were excellent and knowledgeable.  Though my wife and I had been in Paris a few times, there was something nice about being given what seemed like a personal tour of the old city. Each person was given a hearing device and the guide had a microphone so there was no worry about having to be close to the guide at all times.
We needed only to choose where to dine on our own – suggestions and maps were given, and we enjoyed the ambiance of Paris as we wandered the streets.  On one of our days, we lunched at one of the restaurants in the Eiffel Tower. (Pre-book months in advance! Your entrance cost is included.)
It was time to board our ship named The Viking Kadlin. We were driven from our hotel to the ship and the process was simple – leave our bags in the lobby, check in at the counter, and in a short time we were personally taken to our cabin and an explanation by a crew member given of the amenities of the room.  We had opted for a French Balcony – floor to ceiling patio like doors that opened with a glass barrier to prevent us from going for a swim! We chose that over a room with a window where you had to stand to look out.
On board, at meal times, there were many choices, including your choice of wines and beverages.  Each day there were regional choices, or you could select from the same menu of more traditional meals that were available each day. If you wanted beverages during the day, other than the free water in your cabin, you either gave your cabin number at the bar, or pre-purchased a drink package. Tea, coffee, and goodies were available 24 hours.
Each day on the trip, an included excursion was provided – along with again, Viking guides. On some days, there were two options from which to choose. There were a few optional trips available at additional cost; for example, the Palace of Versailles – which we chose to take as one of our travelling partners had mobility issues, and it was better for our party to have the transportation and quicker entrance option.
Each stop was interesting and memorable, even though we had by chance chosen to be in Paris during a heatwave.
A highlight for me was going to Giverny, where Monet lived and painted. Our travel partner had been most interested in seeing the castle remains of Richard the Lionheart, in Les Andelys.
Other excursions were to the home of Napoleon's Josephine, Château de Malmaison, and the beautiful Saint-Germaine-en-Laye. We loved Vernon, and Rouen, where Joan of Arc was martyred.
Knowing we were going to be along the Normandy Beaches, we saved our Remembrance Day poppies and brought them along. We opted for the Commonwealth tour option – and saw Juno Beach, Canadian and British gravesites, and Pegasus Bridge.
I was asked by our tour guide to lay a wreath at the Canadian Memorial. We also got to see the actual Bayeux Tapestry!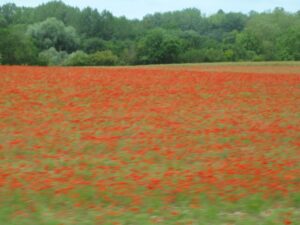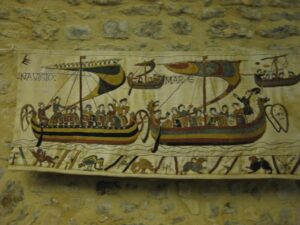 Writing a brief summary of our trip brings back a flood of memories and reminders of the wonderful people we met and sites we saw.  It was all well worth the money! Would I do another River cruise?  In a heartbeat! Was it worth it? Mais oui! Certainement!
GRAHAM BEST'S PRESENATION ON MEMORY, JANUARY 22, 2020
Written by Eileen Phillips with some notes taken by Celina Mau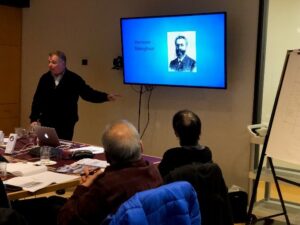 The first General Meeting of 2020 was well attended and started earlier than usual because the presentation on Memory was scheduled to take 3 hours. Lanny, on our behalf, provided all attendees with delicious snacks and a wonderful light lunch.
Graham turned out to be a very engaging speaker. His presentation, though on a serious topic, was filled with humorous examples and many fun activities for us to do.
Some take-a ways from his talk include:
Good news – memory can be improved at any age. Our brains are meant to be continuously growing new cells and making new connections.
Memorizing is a good way to increase both cells and connections. Graham taught us several memory frameworks to use to help increase retention of new materials – e.g. using visualization, pictures, grids, association.
Forgetting is often not a case of 'forgetting' but of not learning in the first place.
In order to learn and retain one needs:
to pay attention. Stress, tiredness and distractions all impede memory.
to learn to associate new learning: e.g. we all remember the colours of the rainbow – ROY G BIV.
to use pictures: e.g. recall 8 things in a room from left to right and place objects to be recalled on each of these items.
to practice and rehearse just as you would train for anything (marathon, big speech)
to have a good attitude – positive, interested, open to new ideas.
Want to live to a healthy age? You need to find a way to do these things:
Exercise throughout the day. (Some believe that a mile of walking each day can reduce the chances of Alzheimer's and Dementia by half!)
Have a sense of purpose for each day.
Reduce the stress in your life or learn how to manage it better.
Develop and maintain meaningful relationships and friendships.
Encourage your family to be supportive and show them how.
Eat smaller meals and follow a healthy diet e.g. the Mediterranean way of eating
Eat more plants and unprocessed foods.
Belong to a community or association of like-minded people.
Drink less alcohol.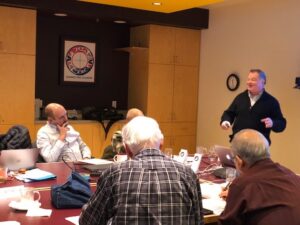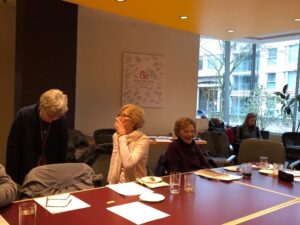 Graham spoke about the importance of sleep. He said that although exercise and nutrition are important for overall health and wellness, sleep is even more important for mental health. How to get better sleep?
Avoid blue wave screens (e.g. computer, phone, tv screens) before bed.
Have a bed-time routine.
Sleep in a dark and quiet room.
Keep the temperature of the bedroom cool.
If you aren't asleep within 15 minutes, get up. Check that you aren't too hungry or thirsty. Re-set your sleep expectations – "Ah, I will fall into a nice, gentle sleep."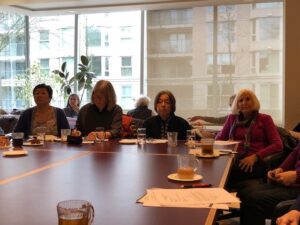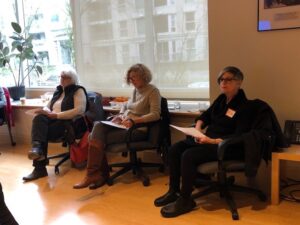 Graham left a handout for us to share and this has been posted on our Yammer network. If you are not a member of Yammer, please go to our website BCRPVPA.ca and follow the links to connect. It helps if you also send a note to info@bcrpvpa.ca to let us know who you are and that you are a member who wishes to be invited onto Yammer.
You may have also received this handout in an email from our President.
I hope you have all had a 'memorable' start to 2020 and that we will see you at our next General Meetings. These will be held on March 31 and the AGM will be on May 13.
Speakers & Programs for Tuesday, March 31st and Wednesday, May 13th
submitted by Eileen Phillips
Meeting Location: #200-525 West 10th Ave., Vancouver, BC (5-minute walk from Canada Line Broadway Station)
March 31 General Meeting
We will welcome Pearl Cicci who will be speaking to us about Wellness: nutrition and health. The timing for this meeting will be our usual: Social at 9:30; Business Meeting at 9:45; Speaker at 11:00. No-host lunch to follow at a local restaurant.
Pearl Cicci is a Registered Dietitian who graduated from UBC. She has a strong passion for educating people about nutrition, seeking to make it simple. Her goal is to make it easy to achieve optimal health. Taking a very holistic approach, Pearl is focused on the overall wellbeing of a person, including their mental and physical health. Pearl recently started her own private practice working with a wide range of people helping them to achieve their health and wellness goals. She believes that, with proper information and guidance, everyone can become the healthiest version of themselves at any age.
Pearl is going to be talking about some tips to help nourish a more senior population. There are many factors to think about when people are aging. During her presentation, she will discuss:
some challenges that are often faced;
key nutrients to keep in mind;
maintaining adequate nutrition and quality of life; and
tips for overall well-being.
There will also be a Q&A portion at the end of the presentation.
AGM May 13, 2020
Patti Lefkos and Barry Hodgins will be speaking to us about travel-volunteering. They were involved in rebuilding a remote village school in Nepal after it had experienced a devastating earthquake. The title of their presentation is 'Nepal: One Day at a Time.' A book of the same title will be available for purchase.
BIO for Patti Lefkos and Barry Hodgins:  Following rewarding careers as teachers and educational administrators in Vancouver and Richmond, British Columbia, Patti and Barry studied journalism and photography and then set out to pursue adventure travel. Whether canoeing the Yukon River, backcountry skiing in BC's Monashee Mountains, hiking in Scotland's Outer Hebrides or trekking in Tibet and Nepal, they embrace the culture and environment of wilderness areas. When not travelling, they ski in the winter – downhill, Nordic and backcountry – out of their home base at Silver Star Mountain Resort in the Okanagan Valley and paddle in summer – whitewater, canoeing and kayaking, river and lake tripping and stand-up paddle boarding.
TPP PENSION NEWS
Contributed by Marsha Arnold
As anticipated, this year's cost of living adjustment (COLA) is 1.9%.  Monthly pension checks will increase by 1.9% and this adjustment becomes a permanent part of our guaranteed pension. We are so very fortunate to have a plan that provides this robust protection!
Information on this protection, dates of monthly pension payments, T4A tax slips, income splitting and requests for changes tax deductions and more is available at:  tpp.penisonsbc.ca or by calling 1 866 876-8877.
It will be helpful to have your pension ID number found on any document or T4A slip you have received from the Teacher's Pension Plan in order to access your personal account.
The My Account link on the website also enables you to easily update your profile, make address and bank deposit changes and download T4A slips.  These tax slips are available for printing in January each year and they will also be mailed out in February to each member.
MSP premiums have been eliminated as of January 1, 2020, for everyone in the province of BC.  However, enrolment in the Medical Services Plan is mandatory, and your MSP photo ID card can still be obtained at any BC driver licensing office.  That feature has not changed.
For TPP members, the automatic deduction of $37.50 for single MSP coverage or the deduction of $75 for a couple will no longer be taken off your monthly pension check.   Unfortunately, you will be taxed on both increases, but it is always fun to report positive change.
---

MEMBERSHIP INFORMATION UPDATE
Have you moved recently? Have you acquired a new active email address?
Please send it to info@bcrpvpa.ca for database updates.
Thank you!
---
BCRPVPA 5 SCHOLARSHIP WINNERS 2019
Written by our Scholarship Committee Members: Christine Johnson (VP) & Allan Buggie
Submitted by Jeff Larcombe on behalf of our Scholarship Committee
Alancia Jeffery
Being a member of Team B.C. and travelling across Canada playing rugby did not hinder Alancia to graduate with honours from Ecole Mission Senior Secondary School.  Alancia has achieved excellent grades through her secondary career, being on the Honour Roll and Effort Roll every year.  She was named the "Unsung Hero" of her school for her leadership and commitment to the school community.
In the community, Alancia was very active with the Fraser Valley Humane Society, Heart and Stroke Foundation and the Aquatics department with the City of Abbotsford.
Alancia will be playing rugby for the University of British Columbia while she studies Kinesiology.  She is looking forward to law school or graduate school after she completes her undergraduate degree.
Alancia's "outstanding academic standing, as well as her record of care concerns for the good of others, makes her an individual who is truly worthy of this distinction," a BCRPVPA scholarship!
Katherine Haberl
Katherine is an excellent academic student, fluent in three languages, English, French and Spanish.  She is now studying at the University of Toronto, majoring in International Relations and Social and Cultural Anthropology.   According to her English 12 teacher, Katherine was, "the most memorable student of her 25 year teaching career.  She is a truly exceptional young woman who is poised to do outstanding things during the course of her lifetime."
Katherine has been described as being at the center of everything good in the school community.  Her list of achievements could fill a page on their own.  But, it is easy to see that Katherine had a major impact in the school and the greater community of New Westminster.
BCRPVPA is honoured to present Katherine one of our scholarships, she is a very worthy winner!
Manon Mackesseyl
Studying Chemical Engineering at Queen's University will help Manon in her goal to become an Astronaut. Having been a perennial Principal's List winner, Manon also found time to take on leadership roles in the school, Belmont Secondary, Victoria. She worked as a camp counsellor in Quebec in French; was the team captain of the Robotics Team; acted as an ambassador for changes within the school; coached a youth recreational and a youth competitive climbing teams; and has volunteered many hours in mentoring children's love of science. "as a student leader in our school, Manon is dedicated and committed." The Principal of Belmont recognizes her outstanding qualities and we do too. Congratulations to Manon, our future astronaut!
Stephanie Quon
Graduating with Honours from Eric Hamber Secondary did not stop Stephanie from helping others. "Through volunteer work I have learned to appreciate the meaning of service', a service which included the initiative to start a fifty-student group which has "rescued over 10,000 meals of day-old bread that would otherwise have ended in the waste stream and distributed it to communities in need". She has worked with special-needs students; helped to train therapy dogs; has represented the school in national level Dragon Boat races; been a successful candidate in the Students on Ice program in the Arctic; and so much more. School staff said of her, "Stephanie definitely has the drive and compassion to make the world a better place." Stephanie has enrolled in the Engineering Program at UBC and "aspires to volunteer with Engineers Without Borders".
Stephanie is certainly a worthy winner of a BCRPVPA scholarship.
Yana Uzelac
Being the top student at King George Secondary is no mean feat and giving of your time to accomplish so much in the quest to help others is commendable. As the Principal points out, "She is a role model for other students with her well-rounded character, academic achievement, and involvement in all aspects of school life." Yana has acted as a peer-tutor, a lifeguard, a volunteer museum educator, a member of the Rotary-sponsored Interact Club (where she was very involved in social and environmental issues), a volunteer piano teacher, a daycare instructor, and many more. She is currently writing a paper for publication based on a research project carried out at BC Children's Hospital.
Yana and her Family arrived in Canada as refugees and have experienced much. Yana is studying Biomedical Physiology at SFU and hopes to pursue graduate education in a healthcare-related field.
We wish her a future filled with positive things. Yana is certainly a worthy winner of a BCRPVPA Scholarship.
Scholarship Committee Members: Jeff Larcombe, Christine Johnson (VP), Allan Buggie
PLANNING FOR THE BCRPVPA EXECUTIVE 2020-2021
By Eileen Phillips, past president
Calling all Members!
I am in the process of preparing the executive slate for the 2020-2021 year and would like YOU to become more involved. Please consider joining our executive team. The yearly time commitment is 4 general meetings and 4 executive meetings. Each of these will take up to 4 hours. There are also email communications and the occasional extra meeting, depending on your position and committee. Our meetings are generally held in the morning at the BCPVPA office on 10th Avenue, near Cambie, in Vancouver.
If you are interested in joining our executive team, please let me know, via my email address ephillips555@gmail.com.  Are you great with Newsletters? with Websites? We are specially in need of members-at-large with a strong interest in technology and communications.
The elections for Executive are held at the AGM each year. This year's will be on May 13, 2020. Please contact me by April 15, 2020 to have your name added to the election slate. And, of course, nominations will be accepted 'from the floor' at the meeting.
---
MENTORSHIP . . . Interested in mentoring our new members?
Or sharing your expertise to newly appointed principals or vice principals?
If you are nodding your head, then please consider becoming a BCVPVPA mentor.
Information can be obtained from one of the following websites, www.bcpvpa.ca or www.bcrpvpa.ca.
---
Looking for Travel Articles in upcoming Newsletters!
Have you travelled to interesting places lately? Have you considered sharing your travel adventures with our members? Please send your submission to info@bcpvpa.ca.
Next Newsletter publication is mid-April and our last one is after May 13th AGM.
BCRPVPA Annual Book Donation
Accepting books in BCPVPA office (525 W. 10th Avenue Bikeway, Vancouver, BC V5Z 1K9 Telephone: 604-689-3399)
Are you a recent retiree?
Do you have any professional resources or books lying around at home?
Are your resources published after 2010?
Are you ready to part with your collection?
If you say YES to all the above, then please
bring them to the BCPVPA office Mondays – Fridays from 8:30am to 4:30pm from March 31 to June 30, 2020. 
So Why the Book Sale? Annually, for many years now, we run a One Day Book Sale during the BCPVPA Short Course on Thursdays in early July at UBC. This is our SERVICE to our newly appointed BCPVPA members! The money raised at the Book Sale will go towards our BCRPVPA Scholarship Fund. We contribute five $1,000 scholarships to our senior high school students.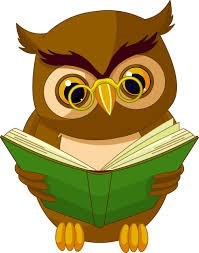 THANK YOU in advance for your professional book contribution and support to our newly appointed BCPVPA members!
2019 – 2020 BCRPVPA EXECUTIVE
President: Ted St. Pierre
Vice-President: Christine Johnson
Past President: Eileen Phillips
Treasurer: Lanny Young
Secretary: Celina Mau
Scholarships: Jeff Larcombe; Allan Buggie; Christine Johnson
Membership & Sunshine: Bonnie Deren
Pensions: Marsha Arnold, Allan Buggie with Gerry Tiede, Advisor
Technology / Communications: Executive Committee
Affinity & Benefits: Marsha Arnold