Volunteering Opportunities

People with a tutoring background  (especially those with a love of nature!) are a large part of our volunteer teams' success here at VanDusen Gardens.  I want to share with you a wonderful volunteer opportunity of School Program Leader, which we have begun recruiting for, here at the Gardens and if you might be able to help spread the word among your network of retired Principals, it would be much appreciated.
School Program Leaders engage K-4 students through interactive outdoor field trips at the Garden. These volunteers have a love of working with children, and a respect for the environment – they support the VanDusen mission by connecting hundreds of groups of students and teachers to plants through safe, fun, and high quality 90-minute environmental education programs (rain or shine!).
The full position description can be found here: https://app.betterimpact.com/PublicOrganization/5757625f-27eb-4d6c-9df5-ff3182c978da/Activity/c3b9287f-786f-41ef-afcc-3e32dbb942c4/1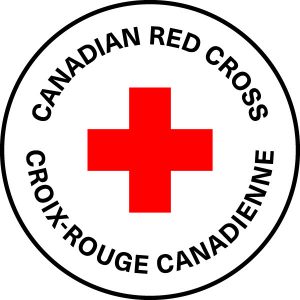 Volunteers are the heart of the Canadian Red Cross. They share their time and skills to help others across Canada as part of the largest humanitarian organization in the world.  
The Red Cross has opportunities for you to give back to your community, meet new people, and gather new experiences. We offer a variety of volunteer positions involving both shorter and longer-term commitments, and requiring a range of different skillsets.
Dara Murphy is a volunteer with the Canadian Red Cross' Health Equipment Loan Program in Penticton. She says helping people access equipment like walkers, crutches and wheelchairs as they recover from illness or injury is "probably the most rewarding volunteer job I've ever had." 
Every day, the Canadian Red Cross responds to the needs of people affected by fires, floods and other disasters. For example, Vernon's Cor Zandbergen has provided support in countless disasters across Canada, including ice storms. He leads the Red Cross North Okanagan Personal Disaster Assistance Team, ensuring emergency social services are available to impacted people across a land base of more than 7,800 square kilometres. 
Cor was recently recognized with the Order of Red Cross, receiving the Society's highest honour for his incredible service, helping thousands of people. 
We want Canadian Red Cross volunteers to get the most from their experience. We invest in our volunteers by providing training to help them build skills and maximize the learning potential in their roles. Our volunteers can expect a positive and professional environment.
Ready to be part of the Canadian Red Cross? Join Dara, Cor and others like them across B.C. and Yukon. Go online to redcross.ca/volunteer or call 1-855-995-3529 for more information on volunteer opportunities in your area.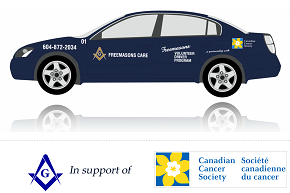 Dear Ms Phillips,
I represent the Freemason Cancer Car Program affiliated with the Canadian Cancer Society in Vancouver. We are looking for new volunteers and are reaching out to organizations such as yours to meet our current needs.
Since 1989, we have provided a free service driving cancer patients to and from their treatments. Our program serves Vancouver and the immediate area, Vancouver Island, the Interior, and Prince George. The service is run by volunteers and is funded by the Freemasons of British Columbia-Yukon and with donations from past and current cancer patients. Our volunteers drive once, or if they wish, twice a week during a morning or afternoon shift from 7 until 5, Monday to Friday.
If you have an upcoming meeting, I would like to attend to briefly promote our program to your members. If you do not have such a meeting, I would appreciate if our appeal were included in any member newsletters/communications or as a link on your website if you would so permit.
I am available by email or by the phone number listed below to answer any questions you may have. Also below, please find our website address.
I look forward to hearing from you.
Kind regards,
David Minichiello
Freemason Cancer Car Committee
604-446-4512
Recruitment Information: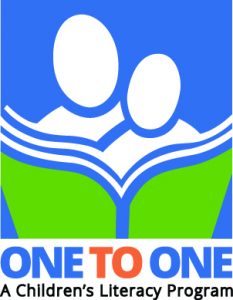 Volunteer Recruitment 2018/2019
Good afternoon,
I'd like to introduce myself electronically as the NEW Volunteer Coordinator with ONE TO ONE Literacy Society. This school-year our team of more than 350 volunteers dedicated their time and energy to help struggling young readers in Vancouver-area public schools with the opportunity to practice reading with a patient, caring adult. In September 2018 we will welcome 12 more schools to the program and accordingly will desire many more volunteers.
In the past you have been essential to helping ONE TO ONE engage book lovers with our program, and I am hoping you will be happy to help again this summer. If appropriate, we'd love for you to share the following Recruitment Information with your members between August 1 - September 30, 2018. If you would like any print materials for posting, posters or a brochure, please let me know.
Warmly,
Liz Van Den Hanenberg
Volunteer Coordinator
ONE TO ONE Literacy Society
500-610 Main Street
Vancouver BC V6A 2V3
Tel: 604-255-5559
www.one-to-one.ca
Through one-to-one volunteer tutoring, we help children develop literacy skills to last a lifetime.
Click below to download the recruitment poster:
Recruitment Information:
Become a ONE TO ONE volunteer tutor and open the world of reading to a child!
For nearly 30 years, ONE TO ONE Literacy Society has been helping struggling young readers in Vancouver-area public schools with the opportunity to practice reading with a caring, patient adult. We know that this time spent with students directly impacts the student's confidence and their chance of succeeding academically and in life.
Do you have 2 – 3 hours a week during school hours to work one-on-one with students? Our volunteer tutors read once a week, either in the mornings or afternoons, at a specific school, from October to June. You will be developing a relationship with the students that will help them bloom into successful readers.
You must be 18 years old, be proficient in English and/or French and complete a criminal background check. We will provide you with training and ongoing support. Training sessions for  new volunteers will be held in September 2018. We are looking for volunteer tutors in Vancouver, North Vancouver, Burnaby, Richmond, New Westminster and Coquitlam. Register now in three easy steps by visiting
www.one-to-one.ca/volunteer
.
Mentorship of New Principals and Vice-Principals:

 
Sharing Wisdom through Sharing Stories of Experience
Have you considered becoming a mentor for new BC Principals or Vice-Principals? 
The New BCPVPA Mentorship Program:
The BCPVPA launched a provincial mentorship program in 2017 matching volunteer retired principals/vice-principals with newly appointed colleagues across the province, recognizing the unique responsibilities and challenges encountered in transitioning into administrative leadership.  The program matches mentors with new colleagues in districts different to their own.  We are seeking new mentors for the upcoming school year to meet the growing request for mentorship support.
What's Involved With The New Program: 
The first year of the project received rave reviews from both participating mentors and mentees. "This is exactly what I was looking for as an educational pursuit since retirement," said one mentor. " I was awakened to the whole process of mentorship and its positive implications to sustain principal leadership."
The volunteer commitment is for an hour a week of coaching conversation with your mentee, plus follow up emails and texts.  The program includes mentor/coach training for new mentors in Nanaimo on Oct.18 and 19 as part of the Connecting Leaders Conference (required), plus invitational webinars and mentor support workshops in February and May.  An honorarium and a copy of the text "When Mentoring Meets Coaching" is provided in appreciation of your commitment. 
Mentors Don't Need To Be Newly Retired:
Whether you are newly retired or have been retired for several years, please consider this worthy opportunity to strengthen the leadership capacity of beginning BC leaders, learn about working in different districts, and develop your own coaching/mentoring skills.  As one mentee states, "taking the time to reflect on goals, strategies, next steps with an interested conversation partner has helped me to gain more objectivity regarding my job and my learning.  The mentors' role is supportive but also geared to expanding my own perspective so there is room for growth.  And since my mentor is not connected to the district, there is more buy-in to the perspective that this is a friendly conversation rather than an evaluative one." 
Mentoring is a reciprocal process that enriches the learning of all –-- mentors, mentees, teachers and students. 
If interested, please link   https://bcpvpa.bc.ca/mentorship/   to the mentor application and submit to the BCPVPA by August 31st.  
Australian Visitors arriving

in September
The BCPVPA will host a group of 20 principals from New South Wales from September 23 to September 29th.  The tour has a focus on Aboriginal Education and our visitors hope to see what policies and practices have made BC the leading Canadian jurisdiction in improving outcomes for indigenous students.  While in the Vancouver area, the group will meet with representatives of the Ministry, post-secondary institutions, FNESC and district principals. They will visit the new Indian Residential School Centre for Dialogue and the UBC Museum of Anthropology, with its outstanding collection of Northwest indigenous art. On September 26th, the group will visit the Sea-to-Sky school district (SD48) to see how that district has closed the achievement gap between indigenous and non-indigenous learners. The tour also includes school visits.
The BCPVPA contacted the BCRPVP to ask if its members would be interested in volunteering during the tour program. The volunteers would drive three or four of our visitors to the itinerary events and would be able to attend the various events planned. Volunteers would be reimbursed for mileage and be provided with the meals provided to the tour participants. A small honorarium will also be provided. The BCPVPA needs five to seven volunteers (depending upon the capacity of their vehicles) and you are asked to contact Kit Krieger, BCPVPA Executive Director, at kkriegers@bcpvpa if you are interested.
TCF Mentors Wanted
Are you interested in volunteering your time to a young adult? Would you be willing to support one of B.C.'s graduating students? The Cmolik Foundation is a not-for-profit Family Foundation that awards scholarships to financially challenged youth that have demonstrated tenacity to overcome significant life barriers.
What do mentors do? Mentors build a positive, caring relationship with a young adult. Mentors provide emotional support and encouragement to help students reach their personal and career goals. Mentors serve as positive role models and friends to help build student motivation. Mentors are part of a larger network of community volunteers investing their time and talents in the lives of young people.  Mentors make a difference.
We ask our mentors to connect with their students at least once a month during the school term either via phone, face-to-face, email, or text. We also ask our mentors to remain with their student until they complete their post secondary studies.
Mentors will have access to our brand new on-line resource materials and instructional videos produced in partnership with the University of British Columbia.
If you yourself or anyone you know might like to provide guidance to young adults in post-secondary studies, please contact me directly before the end of March, 2018.
Thanks for considering our request!
Sincerely,
Elisa Carlson, Ed. D.
Chief Operating Officer
Elisa Carlson, Ed. D.
Chief Operating Officer
The Cmolik Foundation
#210--2121 152nd Street
778-291-0042 (office)
778-385-4711 (mobile)
Twitter Handles:
@TheCmolikFound
@EMSCarlson
Facilitators wanted
BCPVPA Leadership Program to BC Offshore School Leaders
The BCPVPA invites interested members and former members to apply for a unique opportunity to collaborate with the Association as we develop and present a leadership program for BC offshore schools. This program will include:
one introductory Skype session in April;
four webinars in May;
three conference days July 18, 19, and 20 in Vancouver; and
six to eight webinars in the fall/winter 2018/2019.
The program will be based on the Leadership Standards for Principals and Vice-Principals in British Columbia and is intended to build capacity, develop contextual skills, and foster networks of leadership, support, and collaboration.
The position will be contracted with BCPVPA on an hourly basis.
Download the application: http://bit.ly/18AMAlR and return to Kit Krieger kkrieger@bcpvpa.bc.ca by 5 pm, February 12.

Teaching Opportunity
Needed to start by March 05, 2018:
Vice Principal (preferably can teach high school subjects)
About Us
SIS Canada was formerly a BC Offshore school located in Sokcho, South Korea for the past 6 years. In September we relocated our gr. 9-12 program to Vancouver Island to offer our students the opportunity to study in Canada. We are a Group 4 Independent school.( Gallery)
Be Ahead Of The Curve
SIS Canada is a technologically forward school that ensures low-class sizes and focuses on project-based learning . We are a Google school, every student has a laptop, we have our own bus to encourage f ield-trips and utilize only the new BC curriculum.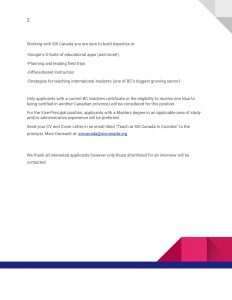 click the image above to see the full advertisement
on your device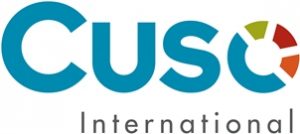 Cuso International is looking for a Spanish speaking Speacial Education Advisor for a 12 month placement in Nicaragua.  We are looking for a volunteer to come and support the development of skills with children aged between 3 and 12 years old in rural communities. Through work in the communities with parents and in schools with teachers, Fabretto works to prevent educational gaps and designs interventions to support children with special needs. As a Special Education Advisor, you will come support these primary education programs by reviewing their programs, advising on the design of diagnostic and analysis tools, preparation of interventions, facilitation of workshops and trainings for families, teachers and technical teams and other activities to support the program.
Placement dates are flexible to start between Nov 2017 and Jan 2018 with support package as follows: Modest monthly living allowance, Accommodation while in placement, Return airfare and visa/work permit costs, Cost of required vaccinations, antimalarial medication and emergency medical insurance, and more.
About Cuso International: Cuso International is a non-profit international development organization, working to improve the lives of people living with poverty and inequality around the globe. Each year we mobilize hundreds of volunteer professionals who work with local partners to create positive, lasting change. Established in 1961, Cuso International is a registered charity in Canada and the United States.
View full description: https://curaweb.mindscope.com/CUSOIN04387_CURA/aspx/JobDetails.aspx?lang=en&Job_ID=544
For more information, please contact:
Lorraine Monteiro
Recruitment Coordinator | Coordinatrice de Recrutement
Tel: 613-829-7445 x 248 | 1-888-434-2876 x 248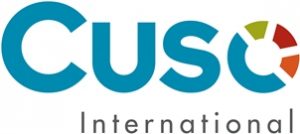 We are looking for two Education Assistants who will work to improve the educational outcomes for children in the far north of Canada in Indigenous Communities. Volunteers will work in schools, at the request of local communities, in the Northwest Territories. The placement is ongoing and ends on Jun 30, 2018 with support package as follows: Modest monthly living allowance, Accommodation while in placement, Return airfare and visa/work permit costs, Cost of required vaccinations, antimalarial medication and emergency medical insurance, and more.
View full description and apply: https://curaweb.mindscope.com/CUSOIN04387_CURA/aspx/JobDetails.aspx?lang=en&Job_ID=348
For more information, please contact:
Lorraine Monteiro
Recruitment Coordinator | Coordinatrice de Recrutement
Tel: 613-829-7445 | 1-888-434-2876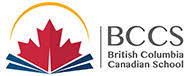 British Columbia Canadian International School (BCCIS)
The British Columbia Canadian International School (BCCIS) is a B.C. Offshore School that is accredited by the B.C. Ministry of Education.  B.C. certified teachers teach the B.C. curriculum that leads to a Dogwood Graduation Diploma. We have approximately 800 predominantly English speaking Egyptian students who range in age from pre-K to Grade 12.  A 'sister school' will be opened in Dubai in September 2017.
We are currently seeking applicants for two school based administration positions:
Vice-Principal – BCCIS - Cairo, Egypt Effective Date: August 20th, 2017
Principal – BCCIS – Cairo, Egypt Effective Date: January 1st, 2018
The role descriptions for these positions are similar to those of parallel B.C. 'onshore schools'. The basic requirements include:
have at least one year of experience working at a principal or vice principal level
have a minimum of three years of experience in a British Columbia public, independent, or offshore school
a B.C. teacher with current BC Certificate of Qualification, including a criminal record check
a Masters' degree in Education Leadership or a related field
fluent in English
excellent written and oral communication skills
a history of strong education leadership and organizational ability
a history of positive relationships with parents and community
ability to be culturally sensitive and adapt to working in Egypt.
For more information contact:
Bob Long
Superintendent - Strategic Planning and School Development
British Columbia Canadian International School (BCCIS) - Cairo
British Columbia Canadian School (BCCS) - Dubai