The BCRPVPA Book Sale 2017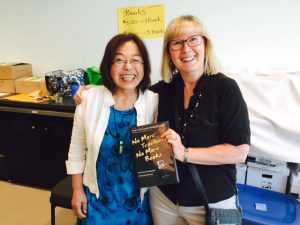 Eileen Phillips
Another successful book sale was held in July at the summer Short Course held at UBC. It was a fun event for book lovers and browsers. We overheard and participated in conversations about the content of the books, excitement over finding a certain book/author, recommended reading and the simple fun of getting a bargain.
Books were sold for $5 each, with discounts for multiple purchases. Everyone went away happy though some wondered if their suitcase could carry the extra weight. It is such a good feeling for the book donors to know their books are going to appreciative new owners, a great boost for those building their professional libraries, and our scholarship fund benefits. This year the book sale cleared $720.
Thanks to the donors – known  and anonymous. Also, to the BCPVPA staff who helped us advertise (RIchard), boxed the books as they arrived (Amorie), liaised with UBC staff (Kim), made announcements for us during Short Course (Jessica and Liz) and deposited our cheque (Helen). Thanks to our members who helped with packing, transporting, organizing and selling – Jeff, Lanny, Olga, Jean, Vivian and Eileen.
We already look forward to next year's sale. Why not start now to eye your books and see which ones are ready to go to a new home? We'll be collecting again in May and June of 2018. In the meantime – Happy Reading!